Products (Amazon) with wrong EANs
When creating a listing on Amazon, it is important to enter the EAN code of your product in the field: "External Product ID" when creating a product, you also have to select that the code is an EAN. Like this: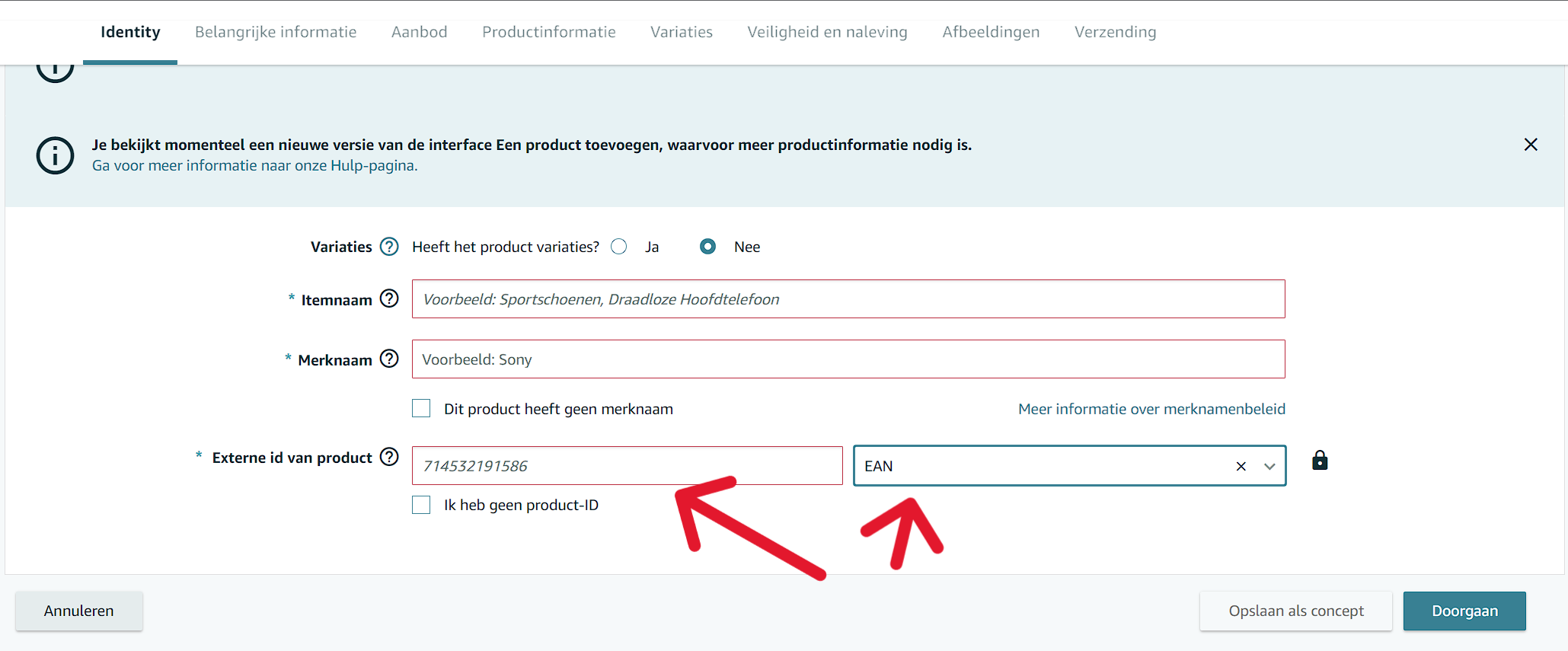 If you don't do this, ChannelDock will not be able to automatically link your Amazon product to the listings of your other sales channels and the product will therefore appear as a 'loose/seperate' product in ChannelDock. If this is already the case, you now have the choice of creating the listing in Amazon again (this time filling in the External Product ID as an EAN) or linking the loose/seperate Amazon product to your other products in ChannelDock. This article explains the latter solution.
Below is an image of the same product appearing twice in ChannelDock. The top product is loaded with the correct EAN. The lower product comes from Amazon where a either different EAN or different number type was filled in during the adding of the product. As this is in fact the same product, we want to link the stock.

Linking the stock together is done by following these steps:
Click on the product loaded with the wrong EAN. So in this case, the bottom product from the table.

Click on 'Settings' in the bottom right-hand corner.

Convert the product to a 'bundle product' by flicking the switch in the top left-hand corner and save by pressing the green button.

Now click on the 'Bundle' tab.

Now click on '+ Add bundle product' and add the product with the correct EAN code. In the example above, this is the top product from the table.
The stock of the Amazon product is now linked to the stock of the product with the correct EAN code. If you want to update the stock of this product, do so by adjusting the stock of the product with the correct EAN code. ChannelDock will then automatically update the stock level of the linked product.
For sellers linked to their fulfilment centre via ChannelDock: please note that both products must be linked to your fulfilment centre via 'Inventory > Fulfillment products'. Otherwise, the stock calculation will not go well.